Burst Pipes & Leak Detection Perth
Hidden water leaks can be a major source of stress for any home or business, especially if they go unnoticed for long periods of time. Left untreated, leaks can cause major structural damage and cost a lot of money! If you've had an unusually high water bill or noticed your meter is still running but the taps are off, you may have a water leak and should check immediately.
Using the latest hydrosonic technology to locate pipes throughout your property, whether it be a commercial or residential property, PBR Plumbing simplifies the leak locating process, saving you time, money and minimising the disruption to your home or building.
Hydrosonic leak detection will locate leaks and burst pipes below concrete slabs, driveways, within brick cavities and even below general landscaped areas.
I have a leak; how do I find it?
There are some common household areas that are notorious for leaks. If you suspect you have a water leak check;
Toilet – listen for a hissing sound or is there water trickling (leaking!) down the back of the toilet bowl? To check if there is water leaking down the back of the toilet bowl place a small amount of toilet paper against the back of the toilet bowl and see if there is any water soaking into the toilet paper? If so, you have a leak.
Taps and mixer taps – these leaks are the more obvious ones. Traditionally they would be dripping, indicating there's a leak. If it's not overly obvious, check under the sink to see if you can see any moisture or puddles. If there is, clear out the cabinet and look for signs of water on the bottom of the cabinet. Things to look out for are water stains, mold, buckled or peeling material, wood or paint. These all indicate a water leak.
Wet rooms – If you suspect the leak could be from your shower or bathtub it's important to act fast because it can damage the walls, floors and tiles. To test if there's a leak, listen quietly to the wet area walls and even put an ear to the floor to see if you can hear any hissing sounds or feel any moisture. Also check the external sides (other rooms and surfaces) of the walls hosting the shower or bathtub – you may find signs of damage from water leaking through into other rooms or cupboards. Feel the walls and the wet area floor as you might be able to find a warm patch where a possible hot water pipe is leaking which heats up the concrete or bricks over time. Hot water pipes are a very common cause of water leaks as the copper corrodes the cold-water pipes due to the chemical reaction between hot water and the copper pipes.
Click here to download your leak allowance application form once the leak has been located and repaired.
How to detect a leak
The easiest way to detect a leak in your commercial property or home is to turn off all your taps, fixtures eg. toilets, washing machines and appliances which are connected to the water supply) After 15 minutes, if your water meter continues to rise, you likely have a leak.
If you're located at commercial property and have multiple water consumers, contact PBR Plumbing to shut the water down as this is a job for professionals.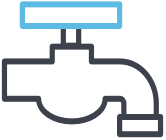 1. Turn off all taps
Make sure you turn off all your taps and water appliances.
2. Find your water meter
Locate the water meter on your property.
3. Check your meter's numbers
Check to see if the meter's numbers are changing. If they are moving, you might have a leak. If they aren't moving, take note of the numbers and then check back in in 15 minutes to see if they have changed. If they have, you may have a leak!
If you believe you have a leak;
Call PBR Plumbing to locate and repair your leaks, we are an accredited Waterwise specialist. Please refer to the Water Corporations website for any further information on Water Wise specialists.
PBR Plumbing will fill out a Water Corporation Leak Allowance claim to recover a portion of the water wastage on your behalf.
At PBR Plumbing we have many years of knowledge and experience in leak detection, taking away any guesswork. We are fully licensed in this specialised area of plumbing – not all plumbers are officially qualified to assist with leak detection!  PBR Plumbing is also a Water Corporation recommended plumber and can assist you with any burst pipe or leak detection issues at hand.
If you believe you know where the leak is, we can go straight to the source and get to work. However, if you aren't sure of where the leak is, that's fine – it's what we are here for. Our advanced technology will help us quickly establish where the leak is if you're unsure of its location.
Although you may have established where the leak is, it's important to keep in mind there could be more than one leak – so by getting PBR Plumbing to come out, we can check, find and fix all leaks in one clean sweep of the property.
We can also issue you with the Water Corporations leak allowance form to recover a percentage of your large water bill due to a burst or faulty pipe.
Frequently Asked Questions