Storm Water Soakwells Perth
PBR Plumbing has many year's experience in both installing and designing storm water solutions for new homes, existing residential or commercial buildings, including soak wells.
We can provide you with sound advice on what the best solution for your property is, whether it be a concrete (pictured below) or polypropylene soak well (picture to the right) installation.
PBR Plumbing will take care of all your storm water issues including;
Connection to new and existing down pipes
Driveway & patio grates
Pool back wash
Or any other areas that require storm water / soak well solutions.
Click here to contact us for more information about design and installation of soak wells in Perth
PBR Plumbing can find the right draining solution for your situation, regardless of space or location.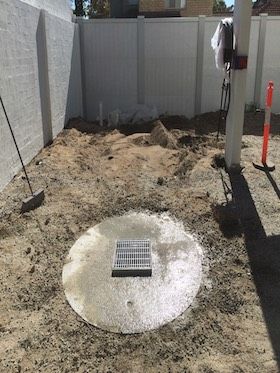 Get social and follow us!